Getting to know Saudi Aramco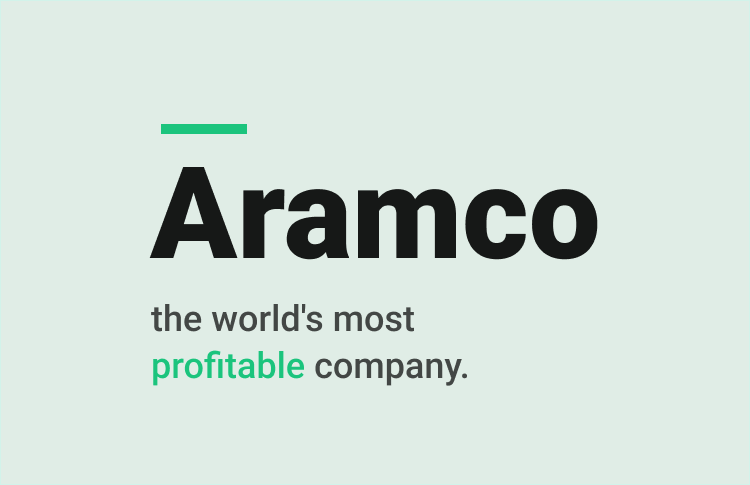 Saudi Arabian Oil Company, known as Saudi Aramco, is the largest oil producer and most profitable company in the world. For decades after oil was first found in Saudi Arabia in 1938, an American company dominated oil production. The forerunners of Chevron and Texaco formed a partnership to pump oil in 1944. They named it Aramco, the Arabian American Oil Co. By 1980, as a wave of countries nationalized their natural resources, the Saudi government completed its gradual buyout of Aramco's assets. In 1988, a new company was established: Saudi Arabian Oil Co. Nowadays, Saudi Aramco's main business is pumping oil from the ground and selling it into the global market, where its biggest customers are in the U.S., India, and China.
Saudi Aramco's IPO
In order to attract foreign investment in Saudi Arabia, Saudi Aramco was slated to open up an initial public offering (IPO) as early as 2017. However, the movement suffered setbacks, and the IPO was repeatedly delayed. In December 2019, the company listed 1.5% of its value as an IPO on the Tadawul stock exchange. Saudi Aramco priced its offering at SAR 32 per share. The company generated subscriptions of a total amount equal to US$119 billion representing 456% of total offer shares. It raised US$25.6 billion in its IPO, making it the world's largest IPO. Although the company reported lower net income for the 2020 fiscal year because of the global COVID-19 pandemic, its shares rose to a record high in 2022 amid a surge in global oil prices following the Russia-Ukraine war.
Why is Saudi Aramco important for Saudi Arabia?
Since Saudi Aramco is primarily a state-owned entity, and there is a clear track record of Aramco having been run as a commercially independent company, the government's budget is highly reliant upon contributions from Aramco in the form of royalties, taxes, and dividends. In addition, even shares amounting to 1.5% of Aramco's value began trading only on the Tadawul, it still had a big impact on the TASI. To minimize Saudi Aramco's impact on TASI, Tadawul introduced index capping for TASI with a 15% threshold to reduce the dominance of larger companies on the index performance so that the weights of all index constituents remain under a set capping threshold. In general, Saudi Aramco has been an engine of the Saudi economy and was fundamental to Prince Mohammed's Vision 2030 plan to modernize that economy. Thus, the IPO of Aramco marks a historic shift for the Saudi economy and the global oil market writ large.